Storm in Europe and Tropical hurricane "Kenneth" in Mexico
2011-11-25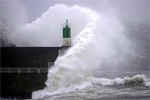 In the north of Europe came on storm
A strong storm swept in over the Faroe Islands (a group of islands in the North Atlantic Ocean between Scotland and Iceland) on a Friday night .
According to reports, the wind force of up to 180 km per hour caused severe damage to buildings.
The population was relatively well prepared for the storm to take precautions, and there were no message of human life loss. Nevertheless, the hurricane was stronger than expected. The wind blew roofs off houses, as well as a number of administrative buildings. At piers ships and boats were torn from their anchors.
According to local authorities, it is the most destructive storm from memory of the island.
However, the cyclone moved further east. And now, on Saturday uragannyyveter to 50 m / s was observed in England, to 40-43 m / s in Norway. Gusts up to 20-25 m / s were in Denmark, Germany, Poland, Lithuania and Latvia. Forecasters warn about a big storm that could erupt on Sunday elsewhere in the Baltic Sea. Storm winds will fall on the Central and Southern Finland. According to YLE, the wind speed may reach 21-23 meters per second. Winds will reach the greatest force on Saturday and Sunday. Energy companies warn about possible disruptions in the supply of electricity. Their own crews work on high alert.
On the night of Sunday, November 27 and Sunday afternoon the wind speed at most of Latvia will be 16-21 meters per second, and on the coast - up to 30 meters per second.
On Monday, the coast winds will reach hurricane strength, that means wind gusts up to 33 meters per second, on the rest of the country - up to 22-27 meters per second.
Also, weather forecasters warned that the wave height in the central Baltic Sea during a storm may reach 6 meters high, and therefore are expected the rise in water level along the coast, including the Gulf of Riga.
For your information, this autumn storms in the Baltic Sea were less than usual, say forecasters.
Tropical hurricane "Kenneth" filled up
Former Hurricane "Kenneth", which was formed in the east Pacific Ocean off the western coast of Mexico on November 21, during the last working day this week weakened to a tropical depression stage. Wind speed near the center was 20 with gusts up to 25 m / sec. Today the tropical depression filled up and ceased to exist.
But only time will tell is the season of tropical storms in the northern hemisphere over. Indeed, in the western and eastern parts of the oceans duration of the season is different.