Tremors in the Himalayas led to landslides and debris
2011-09-28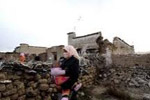 Tremors in the Himalayas led to landslides and debris.
Numerous landslides block the way to rescuers and army units.
In India, rescue workers faced difficulties in reaching the area of a powerful earthquake that struck on Sunday in the state of Sikkim in the Indian Himalayas.
In the state in north-eastern India died 50 people. Together with the dead in other parts of the Himalayas number of victims reaches 80.

About 6,000 Indian troops sent to the disaster area to assist in clearing the rubble and landslides, hampering access to the mountain settlements. Hundreds of local residents the third day sleep outdoors for fear of new destructions due to continuing aftershocks. They were felt in other parts of India and in Nepal, Tibet and Bhutani.

Torrential rains, causing landslides, make it difficult for rescuers to access the victims. Tuesday morning the weather in the state of Sikkim improved, that allowed Army helicopters to deliver food and medical personnel in some affected areas.

Karma Gyatso, the head of the state government, told that aid and medical teams were sent by helicopter to the northern part of the state where the epicenter is located and where died at least 33 people. According to Gyatso, number of victims has increased greatly, because rescuers are only getting to remote villages, where many residents were under the ruins of houses.

Soldiers and rescue workers clear away landslides, which litter mountain roads, with explosives. They managed to restore traffic on the highway which connects Sikkim with the rest of India.

Destruction in Tibet
A similar situation is in Tibet and Nepal where also destroyed many homes. An earthquake measuring 6.9 occurred at 12:40 GMT on Sunday, followed by two strong aftershocks. Across the border, in Tibet Autonomous Region of China in the county Chomo earthquake caused hundreds of landslides, which violated traffic, water and electricity supply.

Xinhua News Agency reported that in the area died 7 people and injured 24 people. According to the Government of Nepal in the country perished 11 people, including two men and a child, who died under collapsed wall of a building of the British embassy in the capital Kathmandu.