The decline in heat in the southern United States, the monsoons in the south-east Asia
2011-09-14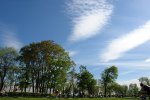 The decline in heat in the southern United States, the monsoons in the south-east Asia
Temperature in southern region of the United States, after record degree disasters, began slowly to fall. Since 15 September temperature will drop to 11 degrees, that is a real winter fairy tale in comparison with 40 degrees. Such changes are possible in the center of the United States, Nebraska and the Dakotas. Citizens of Texas as well can breathe a sigh of relief and enjoy the usual temperature of 26... 31 degrees
While U.S. residents enjoy a serene weather, population of South-East Asia is anxiously waiting for the weather changes. There continues to rage Asian monsoon. It's power this weekend felt residents and tourists in Thailand, whom these pretty heavy rain spoiled the rest. Precipitation is expected, except for Thailand, also in Laos, Vietnam and Hainan Island. Those who plan their holidays in South-East Asia, should get this information in mind.
We can not ignore the other resort center - Bahamas. It is there now hosts a hurricane "Maria" in the stage of the storm, the wind speed is not decreased by this, and reaches 25 m / sec. Because of a possibility of heavy rains and gusty winds it was announced a storm warning. By 16 September the "Mary" approach the island of Newfoundland, accompanied by increasing wind with a speed of 30 m / sec. Also, this cyclone will trigger heavy wind and heavy rain in south-eastern Canada.
Cyclone "Rock" has a potential threat to Japan. It was formed in the western Pacific. The initial wind speed of cyclone reached 18 m / s and by September 17 may overstep the mark of 23 m / sec. In the nearest time residents of the southern region of Japan may feel its impact and by the end of the week "Rock" will make people in China alert in anticipation of danger. A gusty wind and rain will be companions of the cyclone along its path.