Sunny weekend in Europe and rainy in Atlantic
2011-09-10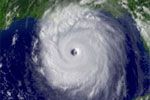 Sunny weekend in Europe and rainy in Atlantic
Precisely such promises can give tour operators those, who wish to carry out weekend in Europe. There because of Azores anticyclone is expected a fine weather with temperatures ranging from 20 to 30 degrees depending on the region. Italy, France, Spain, the Balkans will enjoy the sun, which warm up the air up to 28 .. 32 degrees with a plus sign. Central European part is less hot and its inhabitants have to be satisfied with temperatures around 24 degrees. East will be a little cooler, but temperature with 20-degree plus can also be considered comfortable for long walks and excursions.
Since the end of the week we can expect precipitation in France and a regular decrease in temperature to 26 degrees, which will be the result of the impact of atmospheric fronts. Precipitation are also possible in northern Europe, it is connected with the onset of the cyclone, which brings with it also a slight decrease in temperature. On the rest of Europe will be sunny and temperatures will range from 16 to 25 degrees, the warmest in Spain, where the temperature will reach 30 degrees.
Less optimistic picture for travelers is in the Atlantic, which is currently under the influence of tropical cyclones
The longest cyclone, named "Kate", today is losing its ground, but not as fast as residents would like it to. Strong wind with speed up to 50 m / s, is still terrifying local residents and is a constant reminder of the possible danger. The second cyclone "Mary" is moving northwest toward the Bahamas and will stop near Bermuda. Wind speed in comparison with cyclone "Kate" is low - only 26 m / s, but as far as it is accompanied with rains, that are expected in the Antilles, there will be a very little consolation from this fact, especially if take into account the fact, that "Maria" is gaining strength. Their kinsman, cyclone "Nate," brought troubles to residents of Mexico, where it rages, watering the east coast of the country with heavy rains. The wind is blowing with a speed of 25 m / s, but it is expected to increase to 35 m / s, when the cyclone reached its peak of activity. It, according to scientists, is projected to take place on Sunday, but on Monday the cyclone begins to lose its power.