The Europeans enjoy a warm autumn, the Filipinos are suffering from showers
2011-09-28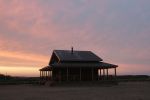 Unexpected, but certainly pleasant surprise brought the fall to the Europeans. Anticyclone, which came to Europe, brought with it heat and sun. Those who planned to visit the British Isles , , are surely lucky, because there in the second half of the week is expected rise in the temperature. Daytime temperature rises up to around 25 ... 27 degrees with a plus sign. Forecasters predict a real blessing for tourists in the western Mediterranean, where daytime temperatures will range from 29 to 32 degrees Celsius. The rest of the European part will also enjoy the sun, which warms the air up to 23 ... 27 degrees.
Weather News from the Philippines are less pleasant. There continues to rage typhoon Nisat, which began its march on Tuesday. As a result, the elements, as reported by local media, killed more than 15 people, about 30 people missing and more than 50 000 residents were evacuated to safe areas. Wind speed in Typhoon Nisat is about 120 km / h, in gusts - up to 150 kilometers per hour. According to the forecasts of meteorologists the typhoon heads in the direction of China. It's speed will gradually reduce to 20 miles per hour. But the trail it left after itself will for a long time remind of its recent presence. First and foremost, local services will have release flooded building from water, that is natural requires a lot of money.
An earthquake measuring 4.6 was recorded in the Gulf of Kamchatka. Residents of Kamchatka peninsula felt the aftershocks at night. The epicenter of the quake, according to seismologists, located on the seabed near the town of Ust Kamchatsky. According to local media, no adverse effects have been recorded. That can not be said about the consequences of showers passed recently in Thailand ..As a result of accumulation of rainwater in the mountains, in some regions were reported landslides in which died people
In Chiang Mai province showers continue their march. In result have been flooded roads and buildings. Local authorities are trying to protect citizens from the threat of flooding and to avoid possible tragic consequences.