Floods in Thailand and Cambodia, the earthquake in Indonesia
2011-10-15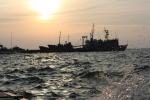 The news coming from Thailand are not happy. People there are still struggling with the effects of floods caused by heavy rains. Thai military and volunteers are making maximum efforts to somehow minimize the influence of monsoon rains. The main burden of the disaster fell on the shoulders of residents of northern and central provinces, there is focused the maximum amount of water. Residents of Bangkok, wanting somehow to optimize their decadent state, organized a competition, building on the rate strengthening of the sandbags. In order to release the city from the water, the city authorities have ordered to dig additional channels and drain the existing ones.

According to the forecasts of meteorologists period from 16 to 18 October will be the most critical to the capital of Thailand. In anticipation of bad weather, some prudent drivers parked their cars on the upper floors of multi-storey car parks, supermarket owners have also introduced some limitations to the operation of their supermarkets in order to avoid panic.

The national economy also affected. Because of the floods cars such global automobile giants as Toyota and Honda were forced to stop production of cars. Historical place, the city of Ayutthaya, also felt the impact of high water. The trouble did not pass the neighboring Cambodia, where residents also feel the effects of monsoon rains.

News with no precipitation came from Bali, in Indonesia. There was an earthquake with a magnitude of 6 points. As reported by meteorologists, there is no tsunami threat, but the negative effects could not be avoided. Because of strong aftershocks, destroyed some elements of buildings. It should be noted that Indonesia is always at risk because of the frequent aftershocks, which are formed on the bottom of the Indian Ocean. They can cause the formation of natural disasters.