Antalya, Northern Europe and Balkans are in the captivity of rain
2011-10-10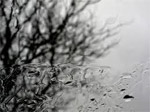 Antalya in the captivity of rain
On the popular resort Antalya is raging storm. To the region fell heavy rains. On Sunday, October 9, per day has fallen more than 100 mm of rain. The rains continued through Monday; amount of precipitation within 12 hours was 22 mm. Many streets are flooded. In some areas under water had gone the ground floors of buildings. The rains were accompanied by increased wind, gusts reached 25 m / sec.
Rainwater element associated with a cyclone which was formed in the Mediterranean. Due to thelarge temperature contrasts (more than 12 degrees), the cyclone intensified, there was a sharpening of its cold front, that led to heavy rains.
In the Balkans and Turkey will continue to rain
Cold front stretching on Mediterranean region, has received a portion of cold air from the north and became active. A mini-cyclone spun on it.
In Romania and Bulgaria in the sphere of influence of the cyclone, pass rains of varying intensity, in the mountains in the form of snow (snow depth was 20 cm). Wind gusts in Romania reached 16 m / s, in Bulgaria, 20 m / s and there was frost.
South of Turkey appeared in the midst of inclement weather of the cyclone. At Bodrum poured up to 79mm of rain. Heavy rains also passed in Antalya, where for the past day on October 9, fell an average of 279 liters of water per square meter. The wind speed reached 80 miles per hour. Because of the rains were flooded more than 50 residential houses and commercial buildings. Because of the peculiarities of local architecture, many apartments and shops are located either at the sidewalk or in the basement, that added the damage from rain. The storm and strong winds hampered the work of the international airport of Antalya. About 60 flights were delayed. Some aircraft were directed for landing in other airports in Turkey. According to the calculations of local meteorologists, rains in Antalya will last for the next two days. In Bulgaria and Romania will pass showers of varying intensity from short to the strong.
Northern Europe is poured by rainfall
On Thursday extensive and deep cyclone with its center located between Iceland and Scandinavia, today approached the Gulf of Bothnia. Cold atmospheric front of the cyclone brought heavy rainfall to the British Isles and Scandinavia. In some areas dropped more than 20 mm of rain and wind gusts reached a gale force, 25-28 m / sec. On Saturday, Cyclone whirls away to the north-east and its center will be over the south of Novaya Zemlya. However, its cold atmospheric front, receiving a portion of arctic air from the north, will be activated and on it will form a wave cyclone, which will continue to pour rain on Norway and Finland.
British Isles will stormed by a new broad and deep cyclone, center of which on Saturday will approach Iceland. In front of it, in the UK, there will be again rainfall, but temperature will be warm, 13 .. 18 degrees. The average daily air temperature exceeds the climatic norm by 2-3 degrees.
But the most of rain will get Germany, where rains will be especially strong. With regard to temperature, it is expected to be normal, during daytime 8 .. 13 degrees.